If you're in search of a convenient way to streamline your documentation process, web browser extensions like Scribe have become increasingly popular. Scribe allows you to effortlessly capture screenshots to create training guides, workflows, and how-to documents. However, there are several alternative products to Scribe, each with its unique features and benefits. Let's take a look.
Alternatives to Scribe
In addition to Scribe, there are several other tools available, such as Dubble, UserGuiding, Minerva, Tango, and Iorad. These tools cater to diverse documentation needs and offer varying functionalities to enhance your content creation process.
The best Scribe alternative: Dubble
Among these alternatives, we think Dubble is the best Scribe alternative. To better understand why Dubble is the top choice, here's a comprehensive comparison with Scribe.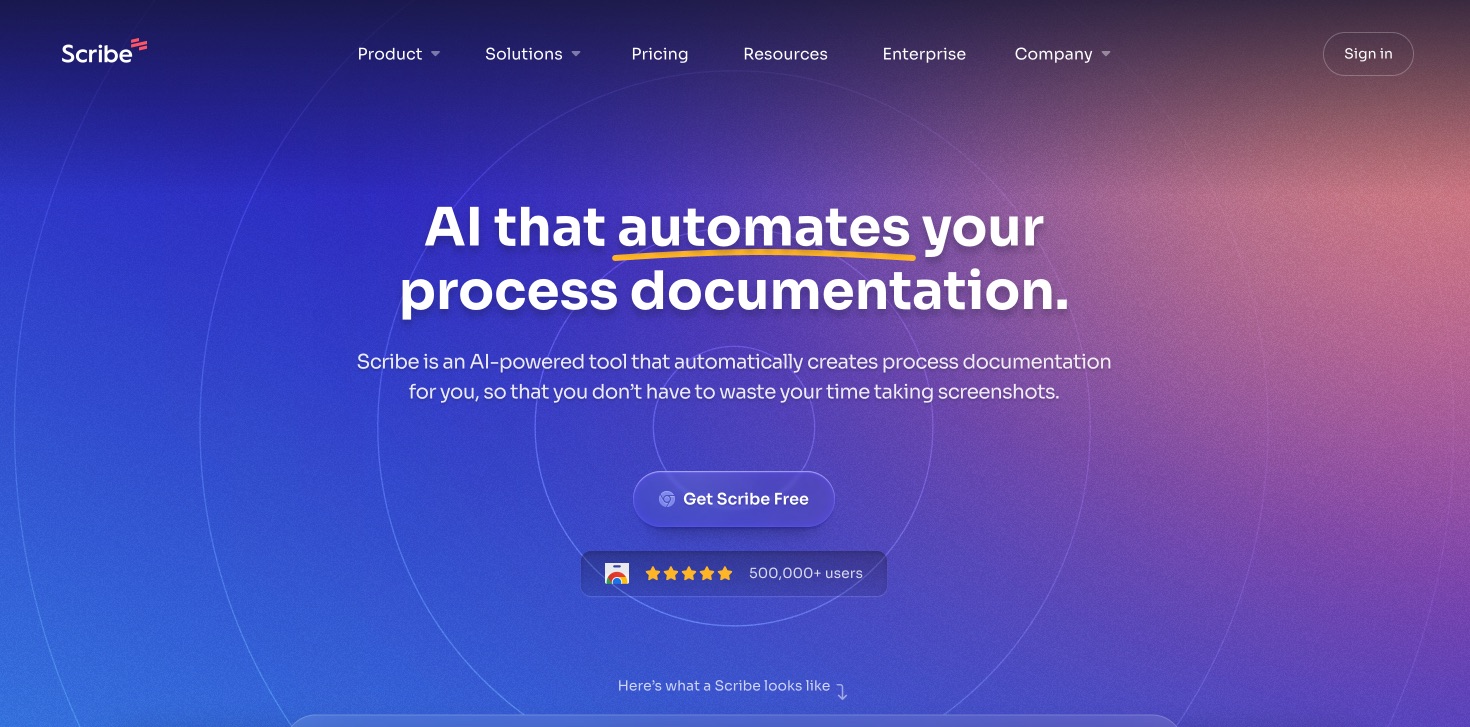 Scribe vs Dubble - A Detailed Feature Comparison
Both Scribe and Dubble share common ground in terms of purpose and user experience. They facilitate the creation of guides and workflows across websites and offer intuitive interfaces. Here's a brief breakdown of their shared functionality:
Record: Both tools enable you to record processes using their respective Chrome Extensions.
Edit: You can edit the generated content, including images and text, to refine your documentation.
Share: Both tools allow you to easily share or export your content with others.
Collaborate: Collaboration is possible, enabling you to work with other editors or share content privately.
However, key differences emerge from a functionality standpoint:
Scribe Pro: This version supports capturing workflows beyond browser-based processes, extending to desktop apps.
Dubble Pro: On the other hand, Dubble's Pro version excels in capturing screencasts with audio alongside text and screenshots. This holistic approach accommodates various learning preferences, including reading, watching, and listening.
Moreover, Dubble's capability to rewind or fast-forward screenshots after recording further expedites the content creation process.
Outcome: The choice between Scribe and Dubble hinges on your specific requirements. Opt for Scribe if you need to capture content across desktop apps. In contrast, Dubble shines as the preferred option when video documentation is essential.
Analyzing Pricing Structures
A transparent pricing model simplifies decision-making. Let's delve into the pricing structures of both Scribe and Dubble.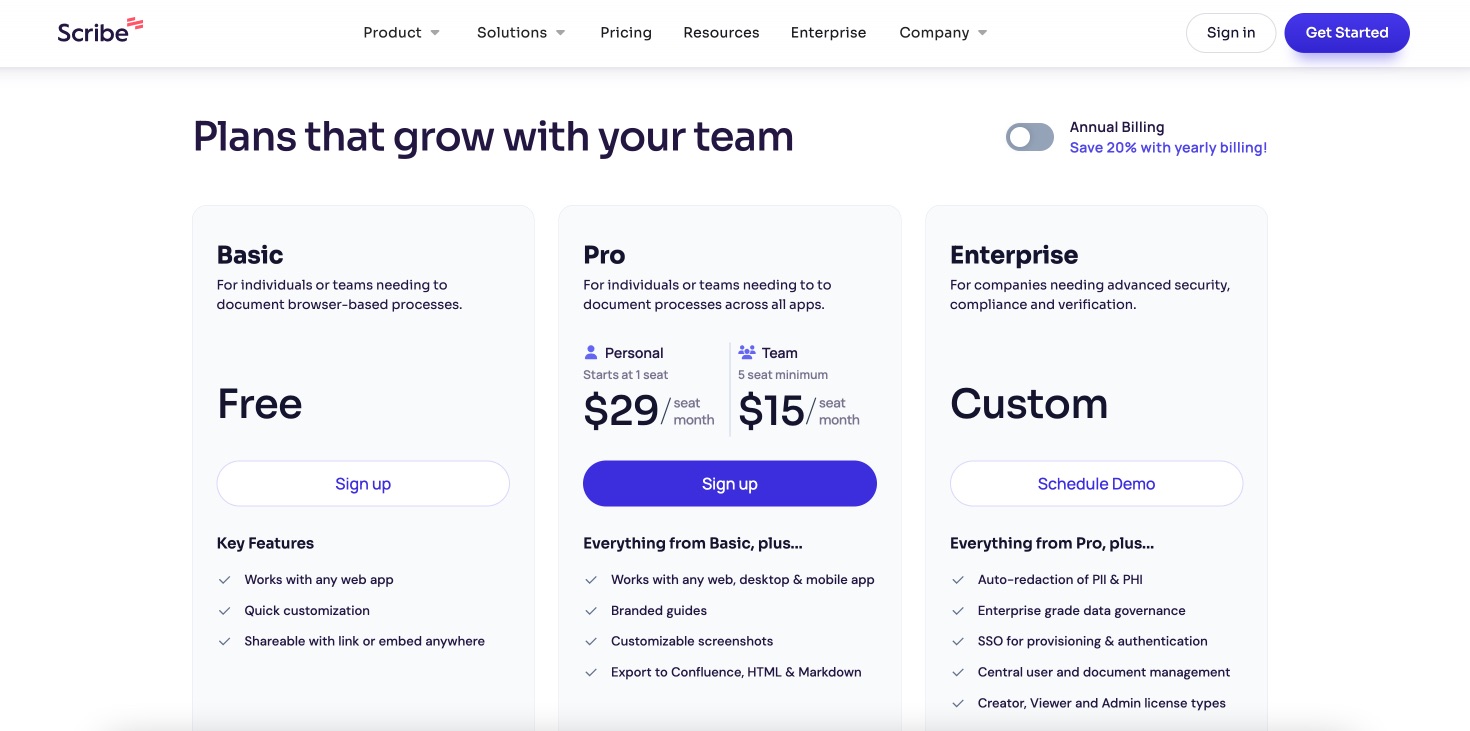 Scribe Pricing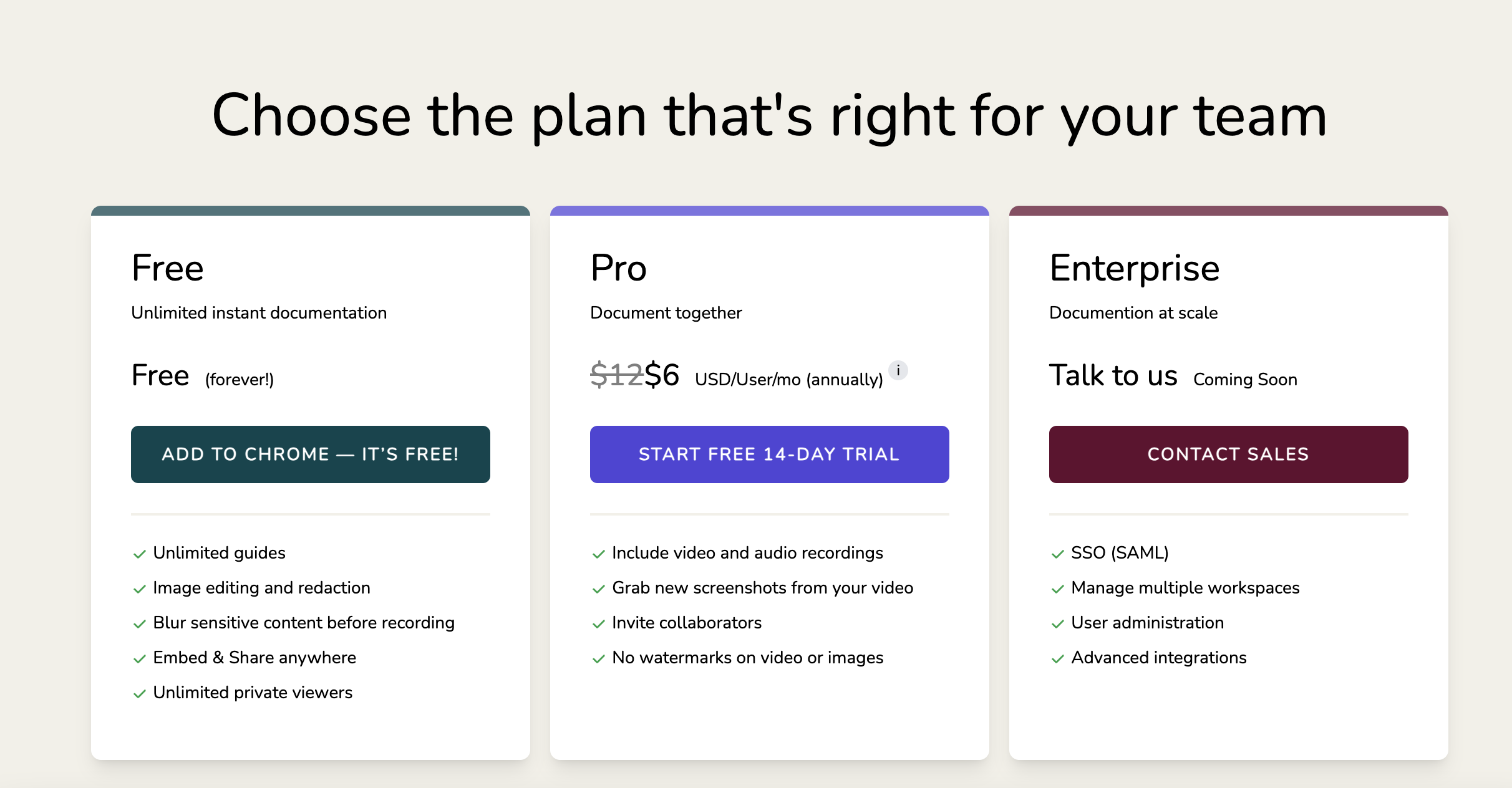 Dubble Pricing
Free Plans
Both Scribe and Dubble offer free tiers, but their limitations set them apart. Both Scribe and Dubble offer unlimited free guides, but Scribe doesn't allow you to share those guides privately with others.
With Dubble's free plan you can invite as many private viewers as you would like. Dubble also offers the ability to redact screenshots on the free plan, which is something Scribe only allows on Pro and Enterprise.
Winner: Dubble's free tier provides more flexibility and features.
Pro Plans
Scribe's Pro plan has two pricing structures, personal or teams. Personal costs $29 USD/month, where as teams cost $15 USD/seat per month, but with 5 seats minimum (which works out to a minimum spend of $75 USD/month).
Dubble's Pro plan costs $12 USD/seat per month (currently discounted to $6 for early customers).
Winner: Dubble's Pro plan emerges as the budget-friendly choice.
Enterprise Plans
Comparing Enterprise offerings necessitates individual assessment based on your organization's needs.
Outcome: Tie
Scribe vs Dubble - In-Depth Comparison
Recording Capabilities
Both Scribe and Dubble excel in user-friendly recording. Scribe captures screen content and automates screenshots, while Dubble goes a step further by enabling screenrecording (video) with audio, webcam, text, and screenshots. This versatility caters to diverse learning styles and content creation preferences. Dubble's inclusion of webcam recording adds a personal touch, ideal for customer or client communication.
Winner: Dubble takes the lead with its comprehensive recording options.
Content Updating
Post-recording, both Scribe and Dubble offer seamless content editing and updates, including annotating screenshots, manually adding new steps, and importing from other guides. Dubble distinguishes itself by allowing you to fast-forward or rewind screenshots any time, which makes updating guides later even easier.
Winner: Dubble
Collaboration and Sharing
Both Scribe and Dubble foster collaboration and content sharing. While Scribe facilitates multiple users editing guides and offers public and private sharing options, Dubble takes it up a notch by allowing private sharing on their free plan—inviting team members as viewers.
Winner: Dubble stands out with its private sharing option in the free plan.
Final Verdict
Choosing the ideal Scribe alternative hinges on your specific needs and preferences. Scribe is a straightforward solution with advanced desktop app workflow capture. Dubble, however, takes the lead by offering a including screencasts with audio, text, webcam integration, and more. Dubble's affordability and generous free plan make it a great choice for those seeking a flexible and cost-effective alternative to Scribe.