Tango is a popular web browser extension that can be used to automatically capture screenshots for training guides, workflows, and how to's. There are several alternative products to Tango - such as Dubble, UserGuiding, Minerva, Scribe, Iorad, as well as more general tools like Loom which have some overlap in the ways it can help your business.
We've tried them all, and when looking at functionality, collaboration and price the best alternative to Tango is Dubble. Let's dig into why.
Tango vs Dubble - Quick Feature Comparison
Let's take a quick look at how Tango and Dubble stack up against each other: both tools can be used to record guides/workflows across websites and have intuitive user experiences. They function in a very similar way;
Record the process using a Chrome Extension.

Edit the generated images, and text.

Share or export the content with others.

Collaborate with other editors, or share privately.
From a functionality perspective though let's talk about the differences:
Tango Pro supports capturing workflows across desktop - it's not restricted to browser based processes. Dubble does not currently support desktop apps.
Dubble Pro however supports capturing screencasts with audio along with text, screenshots, so that guides can educate viewers the way they like to be educated; whether that's reading a written guide, watching a screencast, or listening to an audio recording.
Along with capturing screen recordings comes the ability to rewind or fast forward your screenshots after you've recorded, to make the creation process even faster.
Winner: It depends - if you need to capture content across desktop apps, then Tango is the better choice, however if you need video then Dubble is the clear winner.
Pricing Comparison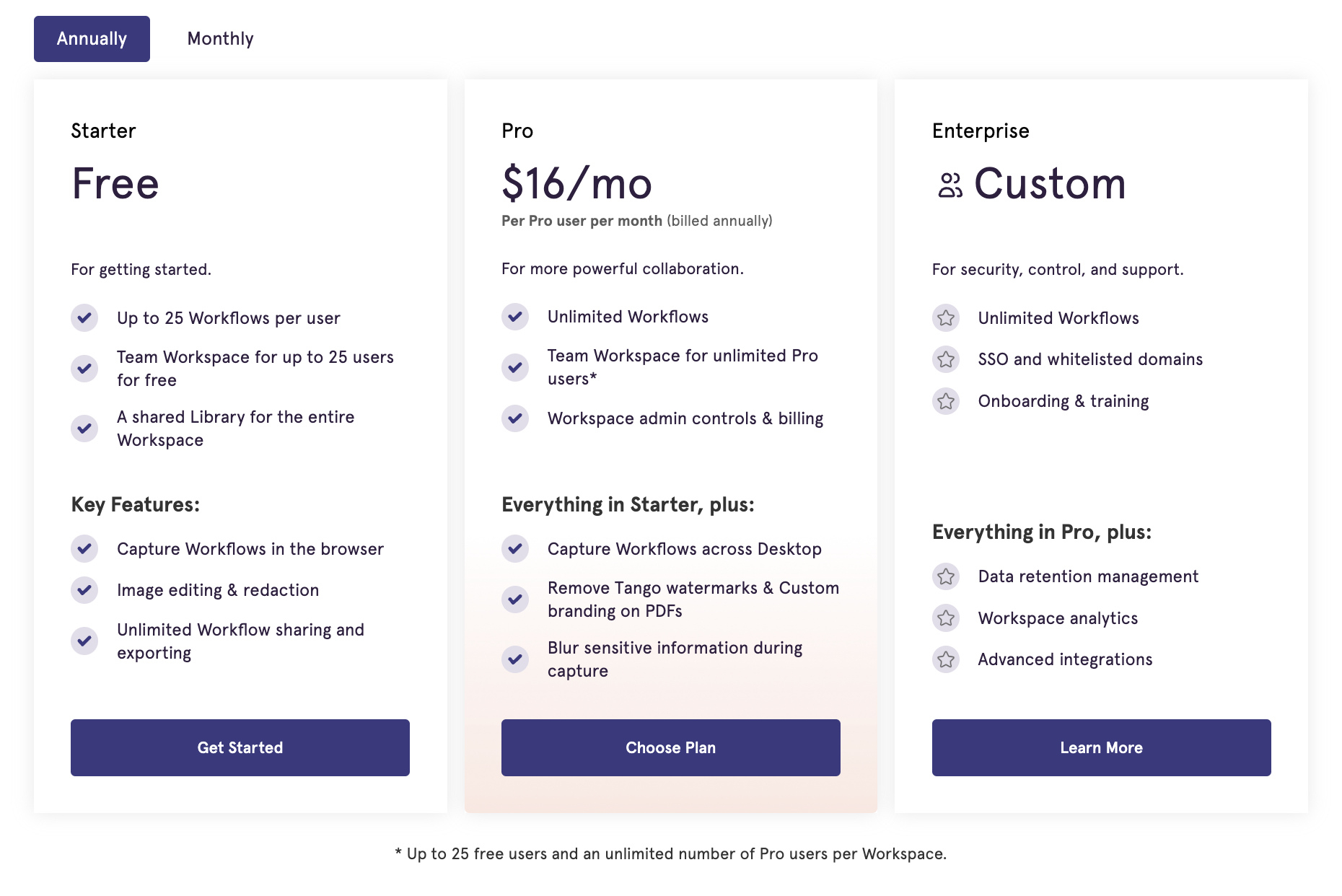 Tango Pricing
Dubble Pricing
Simplicity is often a good thing. In this case, the pricing for both Tango and Dubble is very straightforward: they both offer a free plan, a Pro plan, and an Enterprise plan.
Free plan
Tango and Dubble both have a free tier, but not all free tiers are created equal! Both free tiers have limitations, but here's where they differ Tango restricts free workspaces to 25 free users, and 25 guides per user. Dubble allows you to have unlimited guides, and unlimited private viewers.
Dubble also allows you to blur sensitive information while you're recording.
Winner: Dubble's free tier is more generous.
Pro plan
Tango's Pro plan starts at $16 per user per month vs Dubble's Pro plan which is currently $3 per user per month. Unlike Tango, you can also try Dubble's Pro plan for 14 days for free, no credit card required.
Winner: Dubble's Pro plan is significantly cheaper than Tango's, and can be tried before purchase.
Enterprise plan
Both Dubble and Tango have an Enterprise offering, these are harder to directly compare with regards to pricing, so you'll need talk to Tango and Dubble to see how these compare for your needs.
Winner: Draw
Tango vs Dubble - The Nitty Gritty Details
Recording
Both Tango and Dubble offer easy-to-use recording functionality. Tango allows you to record your screen and automatically captures screenshots, whereas Dubble allows you to record screencasts with audio, text, and screenshots. This means that Dubble allows for more flexibility in how you create and share your guides, and can cater to a wider range of learning styles.
Dubble also offers the ability to turn on the webcam for video recordings, which adds a more personal touch when sending recordings to customers or clients.
Winner: Dubble
Updating Content
Once you have recorded your content, both Tango and Dubble allow you to easily edit and update your content, mark up screenshots, and record and update new steps manually or via the extension.
When you've recorded a screencast on Dubble however, you can also fast-forward or rewind your screenshots - or even duplicate steps to add steps that you missed - which makes keeping content up to date is a breeze.
Winner: Dubble
Collaboration
Tango and Dubble both allow for collaboration and sharing of content. Tango allows multiple users to edit and collaborate on a guide, and allows you to share guides privately or publicly. Dubble also allows for collaboration and sharing.
Winner: Draw
Wrapping up
When it comes to choosing the best Tango alternative, it ultimately depends on your specific needs and preferences. Tango offers a simple and straightforward way to capture and share guides, with advanced functionality such as the ability to capture workflows across desktop apps.
Dubble is the best alternative to Tango as it offers much of the same functionality as Tango with the added ability to create screencasts with audio, text, and webcam and much more. Dubble is also more affordable and a has a very generous free plan, making it a great option for those looking for a more flexible and cost-effective Tango alternative.